NBC 10 Philadelphia
"Pink the Rink" with Saint Joseph's Prep
The Kelly Rooney Foundation thanks St. Joe's Prep Hockey for again holding its annual "Pink the Rink" event to raise awareness of breast cancer and funds for breast cancer research. Click here for photos!
6abc, Action News
2nd Annual Kelly Rooney Memorial Scholarship Presentation
The Kelly Rooney Foundation and Save 2nd Base presented Gordon Dunlop, senior at Father Judge High School in Philadelphia, as the second recipient of the annual Kelly Rooney Memorial Scholarship of $10,000. Gordon received the award at the 6th Annual Golf Outing & Auction on May 14 and 6abc was present for the honorary tee off by Gordon.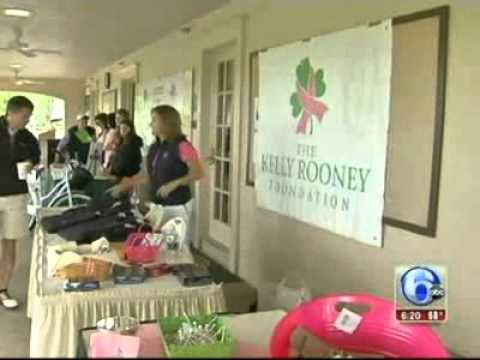 Philadelphia St. Patrick's Day Parade
The Kelly Rooney Foundation proudly marched through the streets raising awareness about breast cancer in the annual Philadelphia St. Patrick's Day Parade.
CBS 3: Health Watch

Local Breast Cancer Foundation Donates Money to Help Find Cure
October is breast cancer awareness month and one local foundation, set up in memory of a mother who lost her battle to the disease, is teaming up with a Philadelphia hospital in the fight to find a cure. Health Reporter Stephanie Stahl is On Your Side with their heartwarming story.
Philadelphia Business Journal

Five Years Later
The Kelly Rooney Foundation recently marked its five-year anniversary as a foundation and celebrated hitting the $1 million mark in its fundraising efforts by recommitting to finding a cure for breast cancer.
Delco Daily Times
Agnes Irwin's McCollum is a deserving award winner
Lisa D'Orazio, Irwin's head softball coach, had done her best to keep word of what would be happening on the softball field Tuesday afternoon from her players and McCollum.
Philadelphia Inquirer
Student athlete, living alone after losing both parents, inspires and wins $10,000 scholarship
Katie McCollum has spent much of her 18 years figuring out the things that her parents would have helped her through, if they had the chance.
Main Line Times
Agnes Irwin's Katie McCollum is first recipient of Kelly Rooney Scholarship Award
Little did she now just how special this meeting would be. At this meeting, McCollum was presented with the first annual Kelly Rooney Scholarship, which will be presented annually to a student-athlete who lost their mother to some form of cancer.
NBC Philadelphia, Tim Furlong
Save a Life; The Kelly Rooney Foundation/Save 2nd Base™
A Teenager who has lost both her parents is given something to smile about. It's a big surprise that will make Katie McCollum's future a lot easier.
6abc Action News, Cathy Gandolfo
Teen, who lost parents, honored for her efforts
Katie McCollum plays softball for the Agnes Irwin School and thought she and her teammates were getting ready to promote a home run derby on Saturday to raise money for breast cancer research.
What she didn't know is that she would be the recipient of a big surprise – the $10,000 Kelly Rooney Memorial Scholarship.
Philadelphia Inquirer
Clothing start-up aims to help fight breast cancer
Save 2nd Base™ is a cheeky clothing start-up with a serious purpose – to aid two breast cancer organizations.
(Read the full story:
PDF Download–2.2 MB)
Philadelphia Magazine
Save a Life; The Kelly Rooney Foundation/Save 2nd Base™
December 2007
Despite being diagnoesed with breast cancer at age 39, Waybe resident Keylly Rooney kept her sense of humor, even coining the phrase Save 2nd Base™ while preparing for the Breast Cancer 3-Day Walk.
(Read the full story:
PDF Download–2.2 MB)
Vanity Fair
Pink with a Wink; Scoring for the Cure
October 2007
In honor of breast cancer awareness month, Save 2nd Base™- the organization established by Erin Dogbert and Kelly Day in memory of their Sister and Friend Kelly Rooney – has launched a line of namesake T-shirts.
(Read the full story:
PDF Download–1.6 MB)
Newsweek
Charity: Cancer's New Pitch
Monday, September 3, 2007
Two summers ago a groupd of Philadelphia-area women who were preparing for the breast canter 3-day charity walk met to decide their team name…
(Read the full story:
PDF Download–1.6 MB)